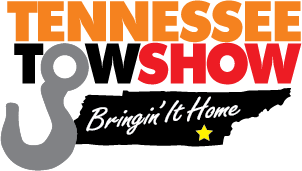 October 10-12, 2019
Convention Center
Chattanooga, Tennessee
Hosted by Tow Times and Tennessee Tow Truck Association


Countdown to the Tow show
Tennessee Tow Show Seminars
1:00 – 2:30 pm
Roadside Safety Panel
Moderated by Michael McGovern
Panelists include Angela Barnett, Justin Cruse, Mike James and Dennis Richards, Tennessee Highway Patrol and Tennessee DOT
Despite the enactment of Move Over/Slow Down laws in almost every state in the U.S., roadside accidents involving tow truck operators continue to occur at an alarming rate. Move Over laws alone are simply not enough to protect drivers working roadside. What else can and should be done to ensure that tow operators working roadside are safe from oncoming traffic? Come and hear a number of innovative and cost-effective ideas from a panel of experienced tow operators and industry safety experts. Attending this session could save your life or that of one of your drivers!!
2:45 – 4:00 pm
Session 1: How to Host Driver Safety Meetings
Bill Giorigs, well known towing industry safety advocate, will address the importance of hosting regular safety meetings.
Take Aways:
ROI on Safety Meetings
DOT Safety Checklist
Keeping drivers engaged
DOT Audit/Drivers Files
Legal Protection (McGovern article)
And more
Session 2: Who's Watching Your Six?
Presented by Angela Barnett, Towing Editor,

Responder Safety.com
From learning the proper way to perform traffic control, establishing best practices for your company, and learning the liability of traffic control. Training is key to saving your life on the roadway.
Session 3: Success with Driver Rewards for Safety
Towing company owner Todd Menzel and Operations VP Jose Muro have successfully created a safety program tied to driver rewards. Hear how their program is working, what they have learned along the way and what you can do to create a program for your company.
4:15 – 5:30 pm
Session 1: Losing A Driver
By Bill Giorgis
When you lose a driver, the emotional upheaval on the towing company employees is just the tip of the iceberg. Learn first-hand the rest of the story – from who to call to what NOT to say – from a towing company owner who lived the tragedy.
Session 2: The Courage to Run a Safe Company

Possibly: Mike James with Ecomply
The COURAGE necessary for an owner to implement safety in the workplace. Whether it be with safety gear or making sure your equipment is running/working properly or making sure your employees are following the rules and having the courage to take the necessary action required to keep everyone safe even if it means possible income loss. He will also address how the towing industry does a fantastic job of memorializing the loss of life but needs to start focusing on preventing it!
Tennessee Track: Legal Roundtable
Towing industry attorney Michael McGovern will host a one-hour informal roundtable discussion about legal issues that we all face in the towing industry. He will review some of the "hot" legal topics in towing, entertain questions from attendees, and monitor the discussion. It is a great opportunity to learn from the experience of others!
NOTE: This session is for company owners only.
Tennessee Track: Tennessee Tow Advisory Board
Tennessee Senate Bill No. 2698, Section 3, amended Tennessee Code Annotated, Title 55, Chapter 16, Part 1 created a towing advisory board consisting of nine members, three of which are appointed by the Tennessee Tow Truck Association. Hear how the board will work and how you can get involved.
Tennessee Track: Lien Law Training
Every state's lien law requirements differ. If you handle business in Tennessee, learn the proper steps to ensure you don't get fined or sued down the road.
Presented by Todd Althouse, Beacon Software and Michele Murray, Auto Data Direct
Seminar: Motor Club Forum
Attendees get an opportunity to discuss non-rate related issues with motor club representatives from some of the leading motor clubs. Past topics have included mapping, routing, multiple passengers, disabled/elderly passengers and more.
Seminar: Risks of Towing Electric Vehicles
Fuel-saving gas-electric hybrid and all-electric cars and trucks powered by sizable battery packs and high voltage motors could present a new kind of danger at serious accident scenes, according to a report by the Society of Automotive Engineers (SAE). The report highlighted risks to first responders and tow operators from potential electric shock from damaged systems not disengaged during or immediately after a crash. Are your operators ready?
Presented by David Bouvia, WreckMaster
Seminar: Expand Your Business into Environmental Clean-up
Learn how to expand your towing business into environmental clean-up and increase your bottom line.
Presented by Perry Beaty, Hazmat Responder Network
Seminar: Using Cameras in Your Business
Presented by Todd Menzel and Jose Muro, Menzel Enterprises
Cameras on and in your tow trucks serve many purposes – from improving safety to protecting your drivers to justifying your invoices. What's the expected ROI on your investment in a camera system?
Seminar: Smarter Not Harder – Make Your Website Work for You
This informative seminar will show company owners the steps to having and maintaining a successful website by covering topics such as choosing a website platform, targeting your audience and impactful content. Presented by Lauren Colon, TT Publications Inc. Production Manager and Carol Snelling, MarketSmart Manager
Take Aways:
Domain and hosting – how it all works and how to protect your company's web-related property
What platform to use when building a site
Tips for marketing your website
SEO
Keeping content fresh
Social Media and cross marketing
Live demo showing the back end of a website
Seminar: Understanding Social Media's Role in Your Company
Hear how positive feedback from satisfied tow customers can enhance your bottom line. Also learn about the importance of managing negative feedback.

Attention Tennessee Towing Companies:
Are you a member of the Tennessee Tow Truck Association? Don't miss the many benefits of belonging to your state towing association.
JOIN TODAY!

Subscribe today to Tow Times
Stay up-to-date with the industry's news and hot topics! Receive a monthly copy delivered to your door for just $38 per year and receive the digital edition in your email monthly for FREE.
SUBSCRIBE NOW!