Welcome to the Tennessee Tow Show website! Our website should provide all information for you to make the most of your time at our show. However, if you still have questions, please give us a call or drop us an email.
Our goal is to continue to provide our attendees with new, exciting reasons to visit the Tennessee Tow Show. This year we have several:
Beauty Contest Cash Prizes
The Tennessee Tow Show proudly announces that this year's Grand Champion, the truck from any category with the highest rating, will take home $1,000 cash. Each first-place winner will take home $250 while second-place winners will each take home $150. All cash prizes courtesy of Ford Trucks. Entries arriving on Thursday, September 13 will be parked inside the Convention Center. Trucks arriving after Thursday will be parked outside on 13th Street adjacent to the Convention Center. Register your beauty contest entry by selecting the Beauty Contest Registration button.
First Annual Safety Symposium
Don't miss the industry's first annual Towing & Recovery Safety Symposium, part of the Tennessee Tow Show seminar program. Experts from towing and transportation fields will address critical safety issues facing our industry during panels and sessions held Thursday and Friday, September 13 – 14. Purchase your seminar pass today by selecting the Get Your Seminar Pass Here button.
Live On-Floor Exhibits
This year's show will have several live, on-floor exhibits to entertain and educate. Watch this website for additional exhibit details.
Check back regularly for show updates.
Have questions? Need help? Contact Christine Weaver, 408-706-6848 or email cweaver@towtimesmag.com.
Vendors wanting to a part of this exciting show should contact Brenda Faulman, Brenda@towtimesmag.com, 407-936-2494


Thank You to Our 2018 Sponsors


This is the only official site to book your Tennessee Tow Show hotel rooms or you can call the hotel directly on the numbers listed. Do not go through any other housing service, it is a scam.
Avoid Long Lines and Pre-register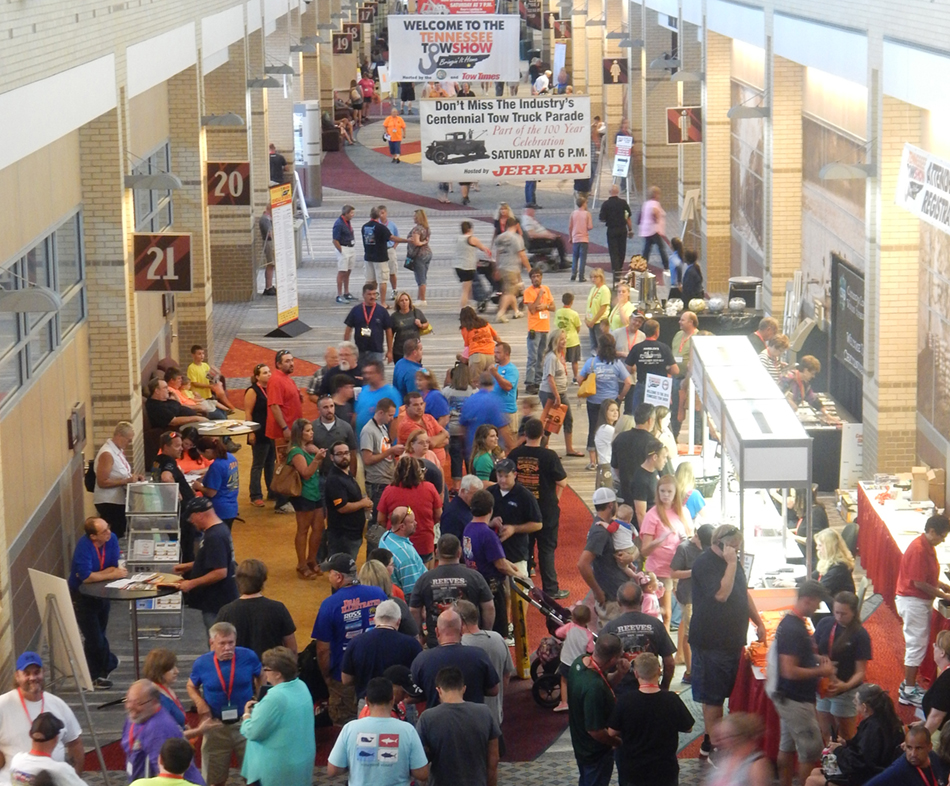 Attendance to the Tennessee Tow Show Exhibits is FREE but you must have an attendee badge to enter. Pre-register now and avoid the long registration lines. Be sure to pick up your badges at the PRE-REGISTERED ATTENDEES area.
All seminars are held at the Chattanooga Convention Center unless otherwise stated. A seminar pass is required for each person attending seminars. Seminar passes can be pre-purchased for $50 per person or purchased on site for $75 per person.
Enter This Year's Tow Truck Beauty Contest
Categories Include: Light-Duty Tow Truck (up to 15,000 lbs. GVWR), Medium-Duty Tow Truck (up to 26,000 lbs. GVWR), Heavy-Duty Tow Truck (26,001 lbs. GVWR or higher, must be tandem axle or more), Working Car Carrier (All GVWR) and Antique/Classic Truck (working or non-working, must be 25 years or older).
Reserve your inside position – register your truck today!
Todd Putman, President
Tennessee Tow Truck Association
615.982.3966
Clarissa Powell, Publisher
TT Publications Inc.
800.308.3745
407.936.2491
Brenda Faulman, Sales
TT Publications Inc.
800.308.3745
407.936.2494