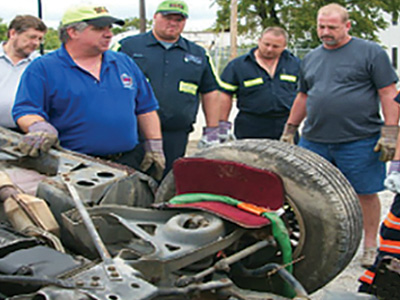 Wednesday, September 12
9 a.m. – 6 p.m. Chattanooga Convention Center
Chattanooga, TENNESSEE
(In Conjunction with TN Tow Show)
Hosted by Nationally Recognized Trainer: Wes Wilburn founder of the American Towing & Recovery Institute.
Learn proven rigging methods and techniques using light-duty car carriers/flat beds – both classroom and hands-on. Register at americantowingandrecoveryinstitue.org. Early-bird registration: $245 per person On-site registration: $295 per person Lunch provided by the Tennessee Tow Truck Association.
One day course be filled with educational theory & hands-on scenarios focusing on different aspects of light duty towing including:
Recovery Techniques
Different Hook Up Methods
Incident Management-TIMS Procedures
Creating a Safer Working Environment, while making equipment last longer!
Light Duty Recovery Course will share proven rigging methods & advanced techniques using light duty car carriers in the hands-on sessions.
Wes Wilburn, 30 year Towing Industry Veteran and Founder of American Towing and Recovery Institute of Fayetteville, NC has been published over 100 times in major towing publications. Wes has produced and conducted training and certification programs for leading towing companies, equipment distributors, towing associations, DOT, fire department/rescue and military installations across the United States. Wes has "shared information" as a main speaker for twenty-one years at 700 plus sessions and has been recognized as one of America's Greatest Towing Trainers. He is well known for his straight forward but down to earth teaching style.
Registration Flyer provided Below: